Smart chatbot for your website
Unlock the Power of AI Chatbots with Our Botpress Chatbot Integration Solution
Experience the future of customer support and streamline your E-commerce operations with our cutting-edge Chatbot Integration Solution, seamlessly integrated into your online store through our proprietary module. 
Whether you're using Magento or WooCommerce, our solution is designed to elevate your customer service and operational efficiency.
After installation, your website becomes equipped with a 24/7 support system featuring advanced E-commerce capabilities such as order status updates and human takeovers via WhatsApp, Telegram, and Facebook Messenger, all seamlessly provided through your Smooch account.
We are able to customize this system to offer any special requirement. The basic subscription plan includes up to 5 hours of customization every month, this has a value of 500€.
The main support for this service, is provided for free via ticket system with no limits *.
* Customizations are priced separately. Basic plan includes 5 free hours/month.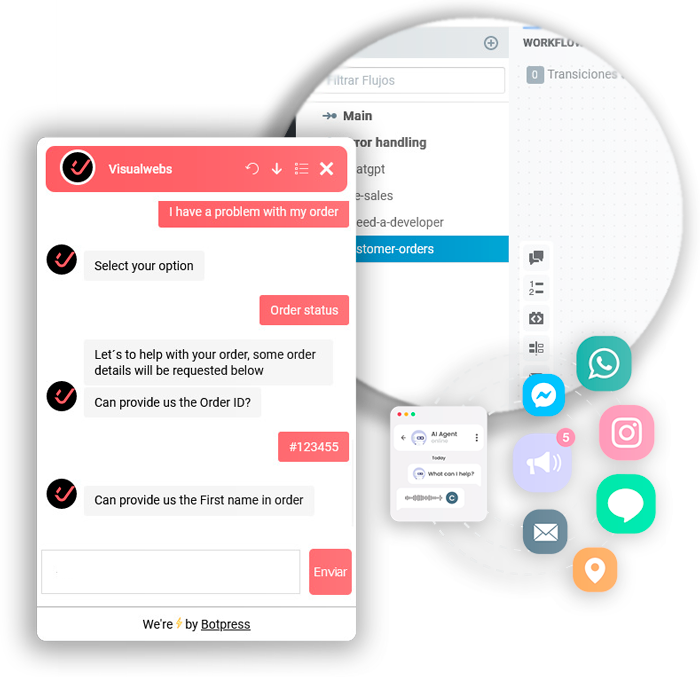 This service provides a fully managed service of smart chatbot for your website, including:
E-commerce Integration: Effortlessly integrate our chatbot into your E-commerce or website, enhancing user experience and customer engagement.

Customizable Solutions: Tailor the chatbot system to meet your unique business requirements, ensuring it aligns perfectly with your goals.

Advanced Automation: Enable automation for tasks like order status inquiries, allowing the chatbot to handle customer queries efficiently.

WhatsApp Support via Smooch: Provide human assistance via WhatsApp, seamlessly integrated with our chatbot. (Requires a Smooch account in addition to your OpenAI account.)

24/7 Support Availability: Offer round-the-clock support to your customers, enhancing their satisfaction and trust in your brand.

Continuous Improvement: We ensure ongoing improvements to the chatbot system to keep it up-to-date and effective in meeting your evolving needs.
Note: An OpenAI account is required for chatbot integration, and for WhatsApp support, a Smooch account is necessary in addition to your OpenAI account.
5 hours of dedicated support / month
5 hours of dedicated support / month
Enterprise
For active E-commerce sites
5 hours of dedicated support / month
Unlock Infinite Possibilities
When you integrate our chatbot and proprietary plugin into your E-commerce system, you open the door to a world of limitless potential. Here are five remarkable ways our system can revolutionize your online business:
Self-Service Order Status and Shipping Updates: Imagine providing your customers with instant access to their order status and shipping delivery information, all at their fingertips. Our system empowers customers to track their orders independently, enhancing their overall shopping experience.

Privacy and Security: Rest assured, your customers' privacy is of utmost importance to us. Our chatbot is designed to strictly respect privacy, ensuring that sensitive information is never compromised or shared with unauthorized individuals. Your customers can trust that their data is safe in your hands.

Admin Bots for Warehouse Efficiency: Efficiency is the name of the game in E-commerce. With our system, you can create administrative bots that assist in warehouse operations. These bots can help manage inventory, streamline order processing, and ensure products are readily available when needed.

Connect Remote Systems for Product Innovation: Imagine seamlessly connecting remote systems to gather information and data for product innovation. Our system can integrate with various data sources to fuel your creativity and bring new products and features to life.

Dynamic Image Carousels: Create eye-catching image carousels for specific product categories, turning browsing into a visually engaging experience. Showcasing your products in this dynamic way can significantly boost sales and customer engagement